SOYL invests in radar imagery to upgrade variable rate nitrogen service
The new image technology is unaffected by cloud clover, providing growers with more consistent and accurate measurements of crop growth and development.

Delivered in partnership with agricultural satellite analysts, Geosys following extensive trials and research, the adoption of radar enhances SOYL's biomass imagery to provide some of the most comprehensive crop data in UK agriculture.

"The addition of radar imagery for the 2022 season is a significant development for our variable rate nitrogen service," explains SOYL and sustainability knowledge exchange manager, Edward Jones.



Biomass imagery (left) identifies variations in crop growth which can be utilised within MySOYL to target nitrogen

applications (right) to where they are required to support efficient and effective crop production.


"The technology enhances our existing biomass imagery model so that growers using the service can receive regular, high-quality cloud-free images throughout the key winter cereal nitrogen application window."

With optical satellite imagery, cloud cover can sometimes obscure the image that is captured and in periods of poor weather, this can mean it's much harder for growers to access information about crop growth and performance to help with application decisions.

"It's important we invest in solutions that allow growers to adopt crop production strategies based on information from their own farms," explains Edward. "Being able to access comprehensive radar imagery on a regular basis means it'll be much easier to monitor crop development, benchmark performance and be more reactive when the data indicates a change of approach is needed."

The incorporation of radar imagery into SOYL's variable rate nitrogen technology is significant and looks set to amplify what is already a sophisticated data capture service.

"We already utilise imagery from nine satellites," says Edward, "which helps us to manage issues with cloud coverage and ensures a more consistent delivery of images to our MySOYL application for customers to use." MySOYL is SOYL's precision farm data platform, available within Frontier Agriculture's MyFarm.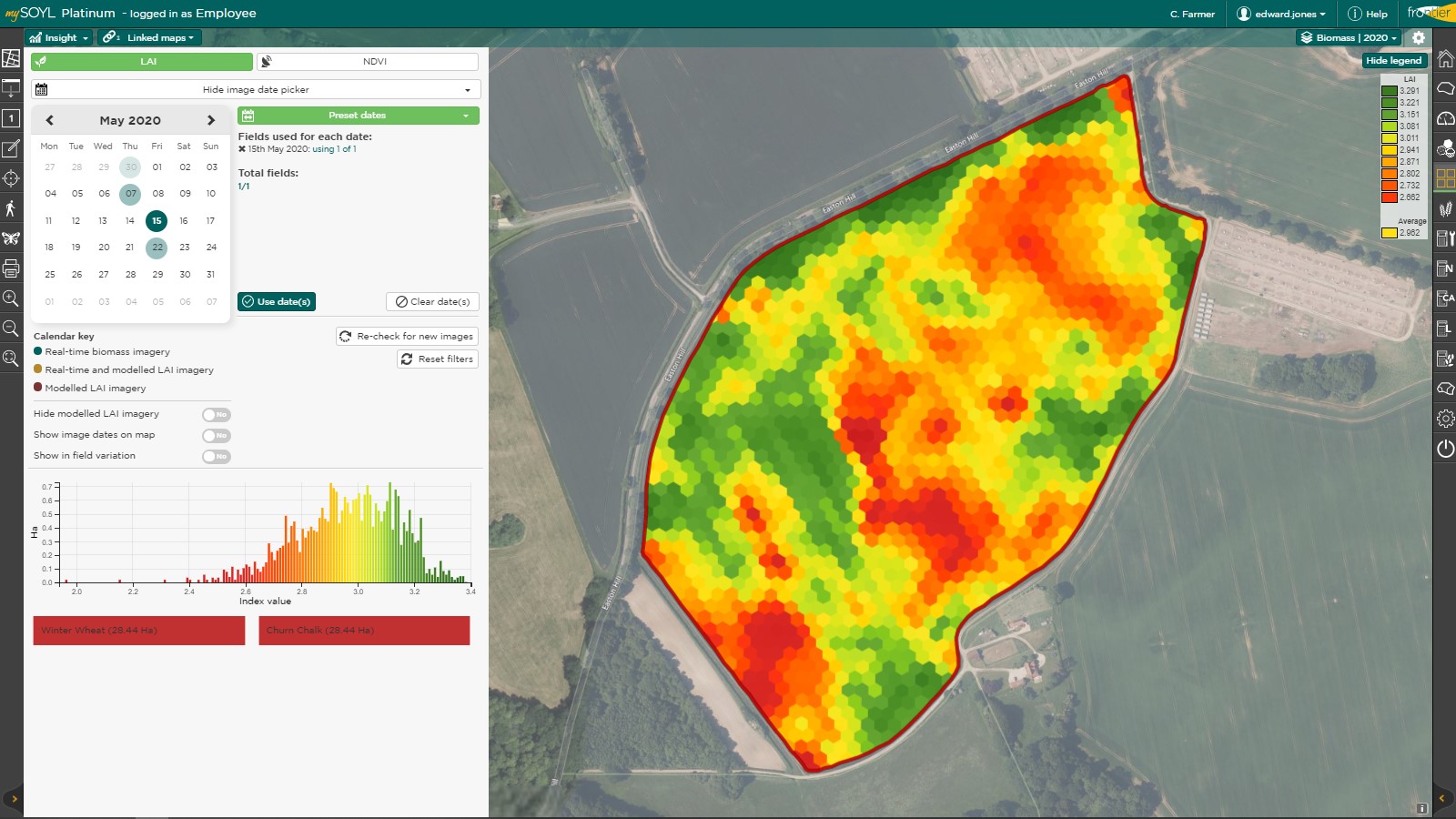 SOYL offers biomass imagery throughout the cropping season, to support crop monitoring and management. The addition of radar

imagery will further enhance this service ensuring regular access to imagery during key growing and nitrogen application periods.


Edward continues, "Six of the satellites we use are tasked which means imagery is provided to us at a premium. It's an important investment for us because unlike free public source satellites, we can retrieve quality data at specified time intervals across the growing season.

"This means we're able to provide growers with regular imagery when it's most important and with that data they can make or change nitrogen application plans whenever they need to."

SOYL's variable rate nitrogen service helps growers improve nitrogen use efficiency by targeting inputs to match their crops' requirements – at a whole-farm scale but also by identifying variations within individual fields.

"Taking a varied application approach means the input matches the demand and this can reduce the amount of residual nitrogen in the soil after harvest," says Ed.

"There are environmental benefits associated with this as it means there will be less residual nitrogen that is at risk of leaching into water courses. Optimising applications can also contribute to a smaller carbon footprint too, with less work required at harvest thanks to improved crop consistency and quality."

The service could be of particular benefit to growers this season given the current situation with fertiliser markets and availability of product. In instances where there is less fertiliser on the farm than usual, variable rate nitrogen can help to ensure that product is concentrated to the areas that it is needed most.

"It's great to be able to bring this latest advancement to our customers," says Edward. "The digital solutions we provide are a core part of our seven-step sustainability model which encompasses all of the wider expertise and services available from SOYL, Frontier and Kings Crops.".

More information about SOYL's variable rate nitrogen service and the role of radar can be found at www.soyl.com/vrnitrogen.