Industry collaboration enables wireless connection of Väderstad drill and iSOYL app

UK precision farming specialist SOYL and machinery manufacturer Väderstad have demonstrated the benefits of industry collaboration with the introduction of software linking the precision management app iSOYLwith Väderstad's wireless control system E-Control.

This new software will enable farmers owning a pneumatic Väderstad Rapid seed drill to easily produce and implement variable rate drilling plans, via the iSOYL app.

iSOYL has been compatible with all popular UK variable rate machinery application systems since it was launched several years ago. Development of the iSOYL app is continuous in order to ensure that its compatibility stays up to date with machinery technology.

SOYL's commercial director, Simon Parrington said: "Through feedback from farmer customers we identified that when using the iSOYL app the standard method of ISOBUS control couldn't be fully utilised on Väderstad machinery with wireless capability. This presented an opportunity for us to improve the farmer's experience of variable rate drilling using a Vaderstad drill. We got together with the team at Väderstad to develop a solution."

A number of trial versions of the new software have been used with Väderstad kit on farm during the autumn 2018 drilling campaign. One of the participants, farm manager, Matthew Houldcroft of R & R Mills Contractors in Leicestershire, who has been part of the group testing the new software, said: "Being able to connect the E-Control on the drill with the iSOYL app makes drilling much simpler and easier to manage. It's absolutely great to have no wires and connections to worry about and it's worked faultlessly for us this autumn."

Simon Parrington continued: "We listen to our customers' feedback and work hard to develop solutions to the challenges they face. Our relationships within the industry are instrumental in this. Working with Vaderstad we have produced new software which will be released as an update to iSOYL in January 2019, in time for spring drilling. In the UK this will give an even easier and more joined up experience for our mutual customers."

The corresponding Väderstad software release has already been deployed as part of a recent upgrade.

Variable rate seed is a popular technique offered by SOYL allowing growers to match seed rates to target plant populations by assessing likely plant establishment which varies across the field and the farm. A more even plant stand results, enabling better yield potential, more effective use of crop protection products and growth regulators, as well as better matching of application timings to growth stages. Employing variable rate seed typically returns a yield benefit of 4.5%, equating to £75/ha at current prices.

iSOYL is an app for iPad enabling the transfer and execution of variable rate application maps between MySOYL and the tractor cab.

MySOYL is a web-based precision management tool used to store, view and analyse farm data and is part of SOYL and Frontier Agriculture's MyFarm platform.

MyFarm is Frontier's farm management platform enabling farmers to manage all aspects of their business, including precision.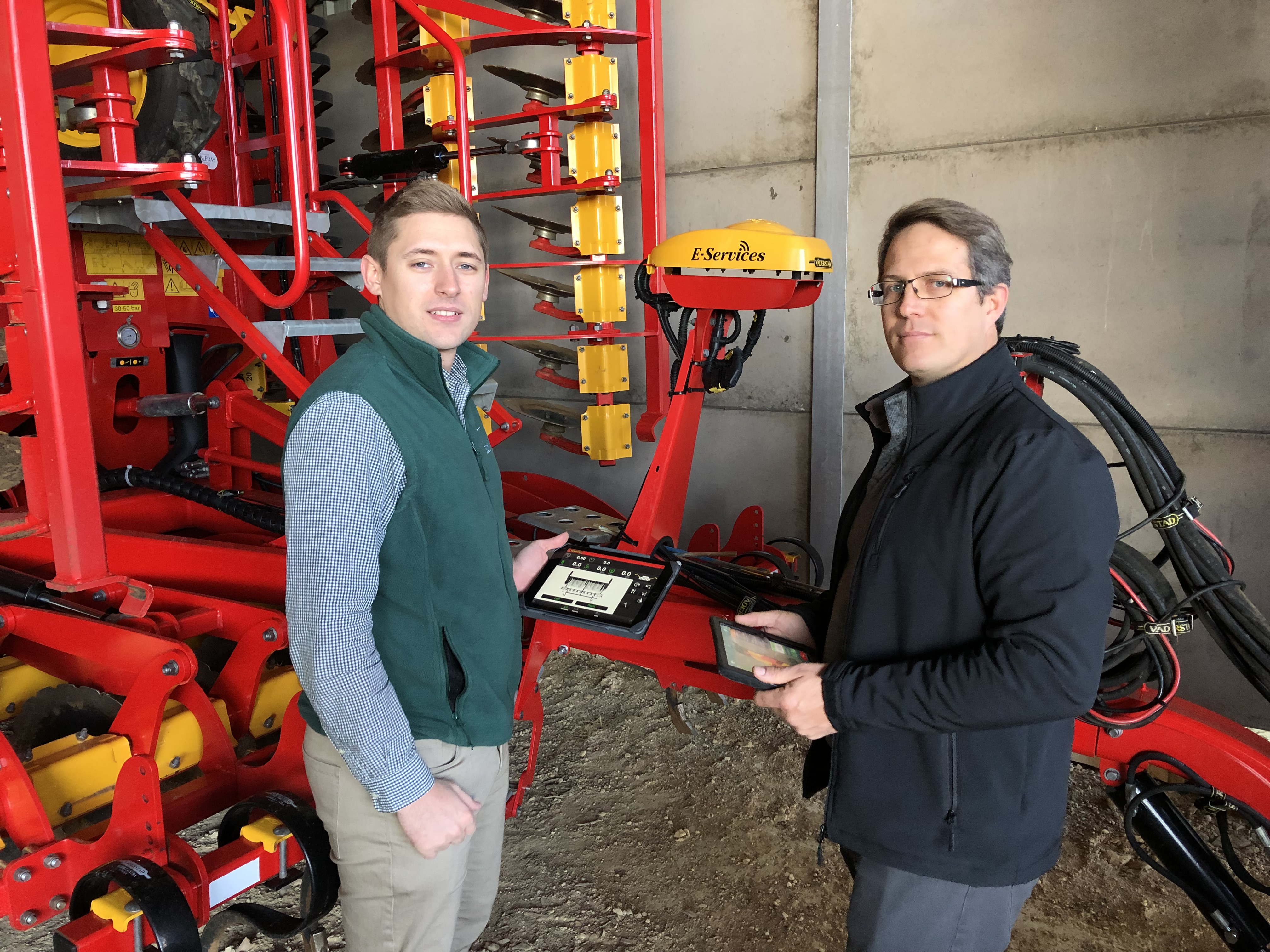 Mark Frost (left), technical support team leader for SOYL demonstrates the new software to farm manager, Matthew Houldcroft a Väderstad and SOYL customer.

For further information on SOYL or Frontier Agriculture contact: Debbie Mather, Head of Communications, 0787 5355 637 / This email address is being protected from spambots. You need JavaScript enabled to view it.